Upper Sixth Mock Interviews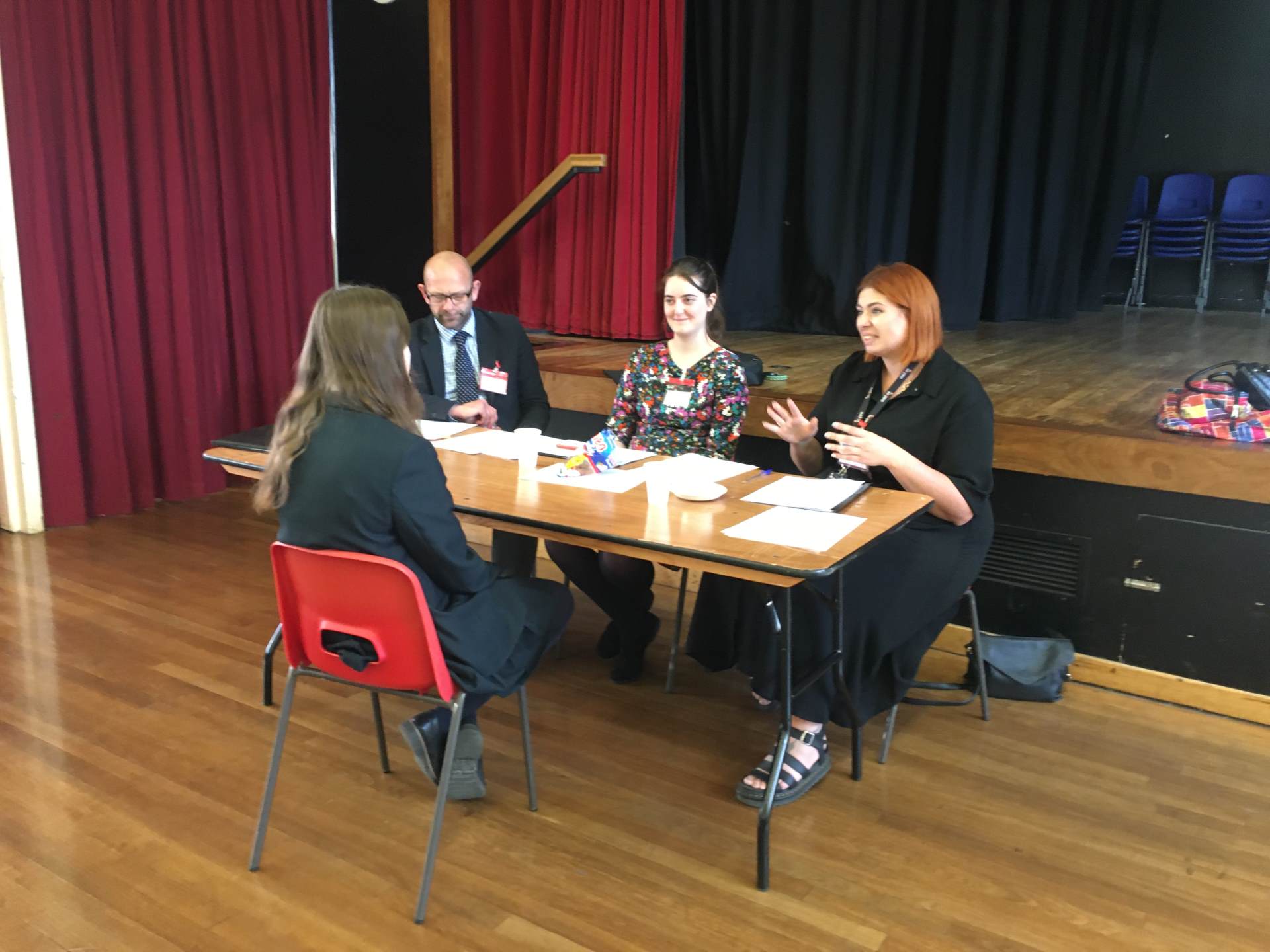 QEGS students were under the spotlight on Thursday 23rd and Wednesday 29th September, as they practised their self-presentation skills in front of a host of local and national employers. After working on their C.Vs and interview techniques in Personal Development lessons, Upper Sixth students completed application forms to apply for a variety of job roles. Fifteen employers visited QEGS, with others joining students for virtual interviews over the two days.
This was a valuable experience for Upper Sixth students, many of whom had not experienced a formal interview before. Students were all nervous as they entered the Main Hall for their interviews, but all left with smiles on their faces having confidently answers questions and adapted their transferable skills to a professional setting. Having employers join the event virtually was a first for the QEGS Mock Interview Day, and we were delighted to welcome interviewers through MS Teams to facilitate a greater breadth of job opportunities for students to experience.
After taking part in a virtual interview with Streets Heaver, Minahil Fansur said, "it went really well, and the interviewer was friendly too. There weren't as many problems in terms of lag or connection issues, and having it online wasn't much different than if it had been face to face. I think it was a very helpful experience in terms of future interviews that I might have to attend."
Grace Lunn was interviewed by a volunteer with the Greater Lincolnshire LEP 'Give an Hour scheme', and had this to say about her experience. "The interviewing experience in school was fantastic! After a time period of mainly online discourse/ a lack of using social skills, it was an opportunity to get that face to face traditional experience. Students can now feel more prepared and comfortable going into future interviews, after gaining tangible feedback from experts. As well as the experience itself, it was also an opportunity to develop quick thinking skills and improvisation. Overall it was a very useful resource given to us from the school to utilise, and will be invaluable to future job prospects. There was only positive feedback from the students about their experiences."
The interviewers themselves praised the students who took part, with just some of the comments below...

"... was very engaging and was a pleasure to talk to"
"Thank you so much for having me - I really enjoyed myself and the school has some really inspiring students. Happy to come back at anytime in the future."

"... wanted to quickly say what a great bunch of students they were this morning... Every one of them did so well, I was super impressed. One recurring theme I'd say is having them do their homework as thoroughly as possible, and to all work on their prepared answers especially on strengths and weaknesses. Most of them had a question for me at the end which was excellent, and it was a pleasure to spend time with them."
"An absolute pleasure to speak with! All the best to them and thanks for organising!"

We are extremely grateful to all the employers that joined us over the two days. If you would like to support any future careers activities at QEGS, please contact the school.